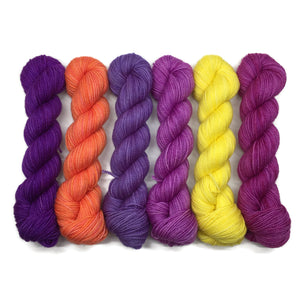 Wicked Tulips Six Pack Perfection Set
Fingering Weight - Six skeins approx 133 yards each for a total of approx 800 yards
Scrumptious HT - 80% Superwash Merino / 10% Cashmere / 10% Nylon
For best results - hand wash cold, lay flat to dry
All colors are also available individually. From left to right they are...
Friendship 7
Ride Sally Ride
Silent Spring
Angel of Mercy
Little Curies
Emergence
The names in this set are inspired by women in STEM - Science, Technology, Engineering and Math. 
It was interesting to learn that if you ask the average person to name six male scientists, they could come up with around four. If you asked the average person to name six female scientists, they came up with one and it was usually the same one. I hope this set will not only inspire you to cast on a new project but also learn a little bit about the women who inspired the names.
Katherine Johnson
Sally Ride
Rachel Carson
Clara Barton
Marie Curie
Temple Grandin
Gradient sets are available in four sizes
Fingering
Marianette - six 40 yard skeins in Scrumptious HT
Perfection - six 133 yard skeins in Scrumptious HT
Half - six 200 yard skeins in Scrumptious HT
DK
---
We Also Recommend
---