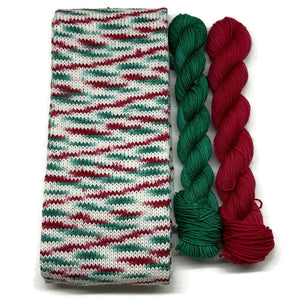 Reindeer Games Sassy Sock Tube
The picture shown is a representation of Reindeer Poop in sock tube form - each sock tube patterning is unique.
This is permanent to my line but not available for pre-order - it is only available when I have it available. 
This Sassy Sock Tube is a pre-dyed full skein skein of Reindeer Poop Practicality 75/25 that has been knit into a tube on my Erlbacher Sock Machine. It is not designed to be unraveled.To finish your socks, simply add a coordinating color for your afterthought heels, cuffs, and toes.
Suggested pattern to complete your socks - Sassy Socks by Amanda Scheuzger - Hand Maine Knits available on ravelry.com and in her etsy shop. The pattern is also included in the Sassy Sock Tube Pattern & Tool Set.
Sock Tube Dimension 
64 sts around
Gauge 17-18 sts per 2"
Approx 50+ inches in length - depending on the size of your foot and how tall you like your sock leg, you may be able to get two pairs of socks out of a single tube
Includes two 20 gram minis for a coordinating Cuff, Heel and Toe
The yarn is Practicality 75/25 Fingering Weight - 75% Superwash Merino / 25% Nylon. 
Please note that the ends of the tube are finished in waste yarn that is meant to be discarded. Knitting socks from a tube requires knowledge of afterthought heels, cuffs and toes.
---
We Also Recommend
---