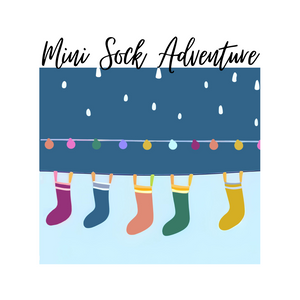 Socktober Mini Sox Box 2023
Please order this on a separate order by itself - thank you! 
This is a Pre-Order and will ship towards the end of September 2023 in time for Socktober! 
Pre-order deadline is August 31st.
This shiny set of sparkly minis is another fun collaboration between Marianated Yarns and Hand Maine Knits. 12 sparkly minis are included in your set - 6 dyed by me and 6 dyed by Amanda of Hand Maine Knits. Mix and match your minis into lots of mini socks using the original Mini Sock design from Amanda Scheuzger plus 3 more new designs.
Each Socktober Mini Sox Box includes...
6 Marianated Yarns Yvette minis & 6 Handmaine Knits Single Sparkle Minis - 40 yards of single ply superwash merino blended with silver Stellina - 6 dyed by Marian and 6 dyed by Amanda. This is the same base as Quintessa Sparkle.
Fun goodies
Printed pattern for the original Mini Sock plus 5 new designs by Amanda Scheuzger
All minis will be caked and ready to be knit into lots and lots of mini socks!
Fall Fun Gift when you order the Socktober Mini Sox Box for October, 12 Dazzling Days of Baubles for November and 12 Days of Knitmas for December. The Fall Fun Gift will be shipped with the 12 Days of Knitmas.
This is a Pre-Order and will ship towards the end of September 2023
---
We Also Recommend
---